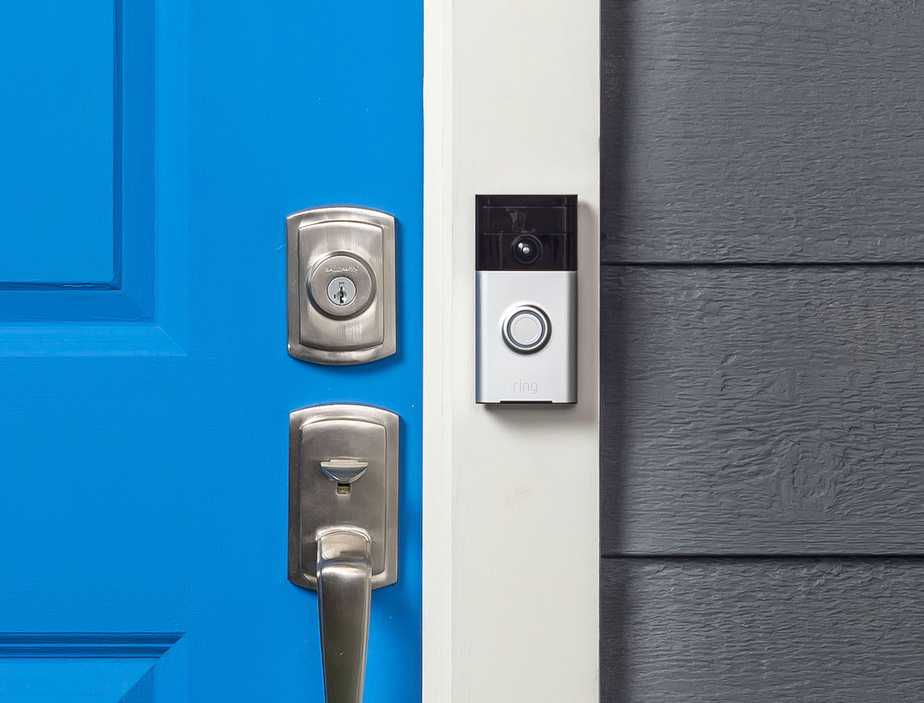 Security is a major consideration in modern life and a range of devices have flooded the market to provide greater security for your home or office. One of the more practical devices that greatly enhance your security is the video doorbell. Apart from the added security benefits, they are also extremely convenient.
Whether you are busy in the home or nowhere near the house, the video doorbell will alert you to the presence of someone at the door. It will notify you on your mobile device immediately and allow you to view them and communicate directly with them.
If you have no experience with video doorbells, selecting the right one for your needs can be quite a challenge. We will simplify this process by giving you the low down on the ten best models we could find.
We looked at the features, ease of installation, how user-friendly the system is and most importantly, how effective and reliable they are.
Based on extensive research and reading the views of countless customers that have tried the various options, we can confidently recommend any of the following video doorbells.
Top 10 Wireless Doorbells
iseeBell Wi-Fi Enabled HD Video Doorbell
The iseeBell Video Doorbell is one of the top selling options on the market. It comes as a complete kit with everything needed to install and setup the system. That even includes a drill bit, hex bit and a Philips screwdriver. This saves you digging around to find the right size equipment and really makes the process a breeze.
What makes it even easier is that you can hook it up to your existing doorbell cabling. The indoor buzzer is included for optional use and runs off a normal AC power source. Once connected, install the intuitive app, link to the doorbell and you are ready to go.
Installation is easy but if you are not a DIY fundi there are very clear instructions as well as online instructional videos to guide you.
The iseeBell is a good looking, compact and modern design and is well priced and really good value for money.
The 720p HD camera provides great images and video and the wide angle 185-degree field of view gives you a full view of the doorway area.
Snapshots and alerts will be instantly pushed to your mobile device and you can view the activity live from anywhere in the world. You can then talk to whoever is at the door through clear two-way communication.
Cloud storage is available if you wish to go back and view earlier footage. All data is protected with bank-grade encryption.
Automatic night vision enables you to see clearly at night or under low light conditions. Wi-Fi connectivity is reliable and the iseeBell can be connected to other smart devices in the home.
Pros:
Motion detection and live view or remote snapshot
Kit includes everything needed for installation
Storage to cloud or mobile device
Night vision
Weatherproof
720- HD video and 185-degree wide angle lens
Secure encryption
Cons:
Some found the volume and quality of audio could have been better
Zmodo Greet Wi-Fi Doorbell
The Zmodo Greet is another extremely popular video doorbell that is well liked for the great features it has to offer. It is one of the more technologically advanced video doorbells available.
Apart from standard features such as infrared night vision, push alerts and two-way communication it has a host of other features for greater convenience and improved security.
The 8GB of onboard storage is handy and will give you 24 hours plus recording on an average day. There is also a free 36-hour cloud storage service. Cost-effective paid options are available should you require additional storage.
The intelligent cloud technology will learn as it is used to reduce the number of false triggers. The dual-band frequency uses 2.4GHz and 5GHz for better bandwidth and greater reliability. The signal is secure and protected by AES 256-bit encryption and Transport Layer Security (TLS).
The Greet also has a facility to pre-record a message or greeting that can be played if you are away or do not wish to talk to whoever is at the door.
Another unique feature of the Zmodo Greet is the pan and zoom function. This gives the user a perfect, clear and detailed video image of whatever is at or near the door.
Zmodo has also been in the market for a while and have a loyal following of happy customers. Their products are known for great reliability and ease of use.
The company offers lifetime support to US customers and the product has a three-year warranty and 60-day refund policy.
The system is also expandable and other security devices such as door and window sensors can be added.
Pros:
Motion detection with night vision
720 HD camera with wide-angle lens
8GB onboard storage
Pan and zoom functionality
Value for money
Good data encryption
Recorded voice message
Integrates with other security and smart devices
Attractive modern design
Weather resistant
Cons:
No option for additional memory
Ring Video Doorbell Pro
One of the main challenges people have with video doorbells is their size. Even the compact models are considerably larger than traditional doorbells. One of the main advantages of the latest video doorbell by Ring is the small 4.7 cm size. This is just over half the size of most of its competitors.
Apart from the sleek compact design, it also has a modern sophisticated look. Further enhancing the visual appeal is interchangeable faceplates that allow you to select a color that fits in with the environment.
Ring was one of the pioneers in video doorbells and they continue to improve and enhance their products. Their video doorbells are top sellers and highly rated by customers.
Ring Pro will record and stream quality detailed video thanks to the 1080p HD camera. Viewing on the user-friendly app is clear and sharp.
A good field of vision is provided by the 160-degree viewing angle of the lens and you can customize the view parameters to avoid unnecessary notifications.
One can use it as is for live streaming and remote viewing but to get the full benefit, there is a range of reasonably priced cloud storage options available. They will give you full functionality, up to six months history and will be especially useful if you incorporate other Ring security devices.
Wireless connectivity is enhanced by the fact that Ring utilizes both 5GHz and 2.4GHz frequencies for Wi-Fi communication. This makes the connection more stable and reliable.
Pros:
Smart, ultra-compact design
Quality 1080HD video
Lifetime theft protection
Weather-resistant design
Good wireless connectivity
Customizable motion detection zones
Cons:
Slightly more expensive than most models
No local storage
Installation is a bit trickier than some models
SkyBell HD WiFi Video Doorbell
Although it will require a subscription, the SkyBell Video Doorbell is compatible with alarm.com for added security and protection. It also integrates with a range of other technologies including Nest, Honeywell, Kwikset, iControl, Alexa and IFTTT.
It works off a range of power sources but the easiest option is to connect to your existing doorbell wiring. It has a backup battery in case of a power outage.
Instant alert notifications will be sent to the free smartphone app for live viewing and two-way communication from anywhere. The 1080p HD color camera and 5x zoom will give you clarity and detail. The app allows you full control to view or record at any time.
You can integrate multiple devices on the system and it also allows multiple users access to the app.
The rugged design is durable and able to withstand extreme weather conditions. Full-color night vision is available for 24/7 peace of mind. The 180-degree field of vision will give you a great view from the doorway.
A cost-saving benefit of the system is 7 days free cloud storage and you can also store to your phone or laptop/PC.
The stylish modern design even gives you the option of a silver or bronze finish to complement your entrance décor.
Pros:
Stylish and good looking
Great integration with other smart technologies
7 Days free cloud storage
Good video and audio quality
5x Zoom
180-degree wide field of vision
Motion detection even in low light
Durable weatherproof construction
Unlimited video streaming
Cons:
Needs external power to function
Not the most compact design
VueBell WIFI HD Camera Video Doorbell
The VueBell is a good all-rounder with all the features you would want in a video doorbell. It will work off AC(10-24V) and DC(10-36V) power making installation easy.
The 720p HD camera has a wide 185-degree field of vision for a great view or the surrounding area. 8 LEDs allow good night vision of more than 5 meters. The 8x digital zoom provides close up detail of any activity you wish to view.
Quality image and streaming video will be pushed to the smartphone app when motion is detected or the doorbell is activated. You can then view and communicate via the app.
There is RF door chime with a range of tones should you require one. The Wi-Fi range is good at around 100 meters and motion detectors are extremely effective.
The construction is tough and durable with an IP54 weather rating for even the worst conditions. The system is easy to install and the app is user-friendly and intuitive. Multiple users can be given access to the app.
VueBell offers outstanding aftersales service and support. The system has an 18-month return and replace warranty.
Pros:
Durable and weatherproof
8x Digital zoom
Good field of vision
Easy to install
Cons:
Wireless network occasionally unstable
August Doorbell Camera Pro
August have upgraded and improved on their earlier model video doorbell and the Pro is certainly a force to be reckoned with.
The HD camera will capture anyone at your door and you can view them and talk to them from anywhere in real time using the smartphone app.
Instead of infrared cameras for night vision, the August Video Doorbell uses a built-in floodlight that will come on when motion is detected. This gives additional security and is a great feature if you have unwanted people at your door. It will allow you to view the activity at the door perfectly even when it is dark.
The HindSight feature records activity as people approach the door and while they are there. This can be viewed in either real-time or after the event.
It is easy to install and setup as you simply connect it to your existing doorbell wiring. It is an easy job but comprehensive instructions are included.
Any activation of the doorbell or motion picked up by the sensors will send an instant alert to your mobile device. From your smartphone app you can communicate and control the system remotely.
The HD image quality is good and the streaming works perfectly well. The 1,280 x 960 HD camera has a 120-degree viewing angle.
The system works with other August Smart products such as Smart Lock which will allow you to unlock the door remotely if you want to. Another new feature of the Pro model is that it will work with Alexa allowing you to further enhance your smart home environment.
Pros:
Great HD image quality
HindSight recording before and during activity
Two-way communication
Alexa integration
Integration with August Smart Lock
Cons:
Some users found installation a bit tricky
AKASO Smart Video Doorbell


The AKASO Smart Video Doorbell is an easy to install, easy to operate option that has all the features you would need. It is highly effective and reliable.

Being fully wireless is it quick and easy to install. There is no drilling to be done and no cables to run. The fact that it is battery operated is not a drawback as the system uses an ultra-low power technology. This allows the batteries to last around four months of day to day use or up to a year plus in standby mode. The batteries are rechargeable so there is no ongoing expense.

The wide angle 720p HD camera gives an outstanding 166-degree field of vision and crisp clear images and video. Inferred technology means you have good clarity even when it is dark.

Quality two-way voice communication is possible thanks to good microphones with noise canceling technology.  The PIR motion detectors are sensitive but smart. They will pick up visitors or intruders while ignoring passing cars, leaves or insects. You can also adjust the sensitivity to suit the environment. All of this means fewer false alerts.

The app is practical and easy to use and you can view and communicate with someone at the door from wherever you are. It will work off an Android or iOS smartphone, tablet or PC/laptop anywhere in the world.

You can view live video and communicate in real time or go back and look at historical video from the loop recording. The AKASO has 8 GB onboard storage. Any motion or activity at the door, or the press of the door buzzer, will send an instant alert to your phone.

Pros:
Easy to install
Wide-angle lens with 166-degree field of vision
Clear 720P HD video
Rechargeable 18650 battery powered
Smart adjustable motion-activated alerts
Real-time two-way talk and video
Wireless Wi-Fi system
IR night vision
Cons:
The camera is not waterproof (simply install on the door under cover and this will not be an issue)
RemoBell WiFi Wireless Video Doorbell
The Remo Wireless Video Doorbell ticks all the right boxes needed for a quality convenient door security system.  The many features and ease of use have made this a very popular choice and that is highly rated with many positive reviews from happy customers.
It is battery powered and fully wireless which makes it a breeze to install. It works really well with the user-friendly mobile app. Any relevant activity will send an instant push message to your mobile device and the 720p HD camera will provide clear, detailed images and video. Easy two-way communication is possible through the app.
Infrared night vision allows it to work effectively at night or in low light conditions while the powerful motion sensors mean you will never miss a thing.
The PIR or passive infrared motion sensors are able to detect heat which means they can identify living objects and ignore leaves and other material that might blow past. This will greatly reduce false triggers and makes the system more reliable.
Cloud storage is optional at a very low cost or you can simply view live and recent footage from the app.
Other features include an activity log, low battery alerts and the ability to link up to five users to the system. This last feature makes it ideal for a family environment.
The doorbell is durable able to withstand extreme weather conditions. It has an excellent 120-degree field of view. Another good feature is a lifetime theft guarantee for additional peace of mind.
The fully wireless system is extremely easy to install and set up and the app is well designed for ease of use. The batteries will last around 4 months with average use making this a hassle free convenient and reliable security feature for your home.
Pros:
Heat sensitive PIR sensors
Wireless convenience
Inexpensive cloud storage
User-friendly system and app
Access for 5 users
Good field of views
Decent night vision
Cons:
Some users had to use signal extenders in larger homes
The mounting bracket looks a bit cheap
Powmax WW-05 2.4G Wireless Door Phone Doorbell
This wireless video doorbell and intercom system is a popular choice for hotels, office buildings or larger homes. It consists of a durable, weatherproof outdoor HD camera and a 7 inch digital TFT color panel for indoors. This panel can be mounted or used on a desk stand. The camera is easy to install, extremely robust and has a tamper alarm.
The 300-meter transmission range (in open areas) is one of the best features of the Powmax Video Door Phone and makes is suitable for larger buildings. It works off a 2.4GHz frequency that has top encryption and frequency hopping to ensure security.
Other features include hands-free communication, adjustable volume and brightness, a choice of melodies and date and time display.
Six infrared lights ensure good night vision and the Powmax will save up to 100 time and date stamped photographs. It has a reasonable 92-degree field of vision.
The system will also work with electric door locks allowing you to open the door remotely. You have the choice of running it off rechargeable batteries or normal AC power.
Pros:
Great range for larger buildings
Good IR night vision
Battery or AC power
Good encryption
Cons:
Not practical for a small home environment
Eques VEIU Rechargeable Door Camera Peephole Viewer
This system offers great protection for the home or small office and is extremely user-friendly and easy to operate. It is designed to be practical for even children or the elderly to operate.
It works off both a smartphone app as well as an internally operated large LED display and control panel. It will record the video on both options. As it runs on rechargeable batteries and Wi-Fi, it is a cinch to install.
The wide-angle lens offers a large 180-degree view ensuring you capture all activity at or around the door and the reliable motion sensors will automatically record and send an alert to your mobile device.
You can communicate clearly with two-way communication on either the app or the LCD monitor. Superb night vision means you have 24/7 image quality.
The app is easy to use and free for Android or iOS devices so there are no monthly costs. The system has 2GB built-in storage that can be expanded to 32GB.
Pros:
User-friendly
Large LCD display and control panel
Wireless and battery operated
Good field of vision
Cons:
Final thoughts
The two main benefits of video doorbells are convenience and security. They are an affordable way to see who is at the door if you are busy in the house or away from home.
This gives you peace of mind and will enable you to keep an eye on activity at your front door and communicate with people when necessary.
They are easy to install, easy to use and will give you an added level of protection as well as great convenience. Every home should have one.