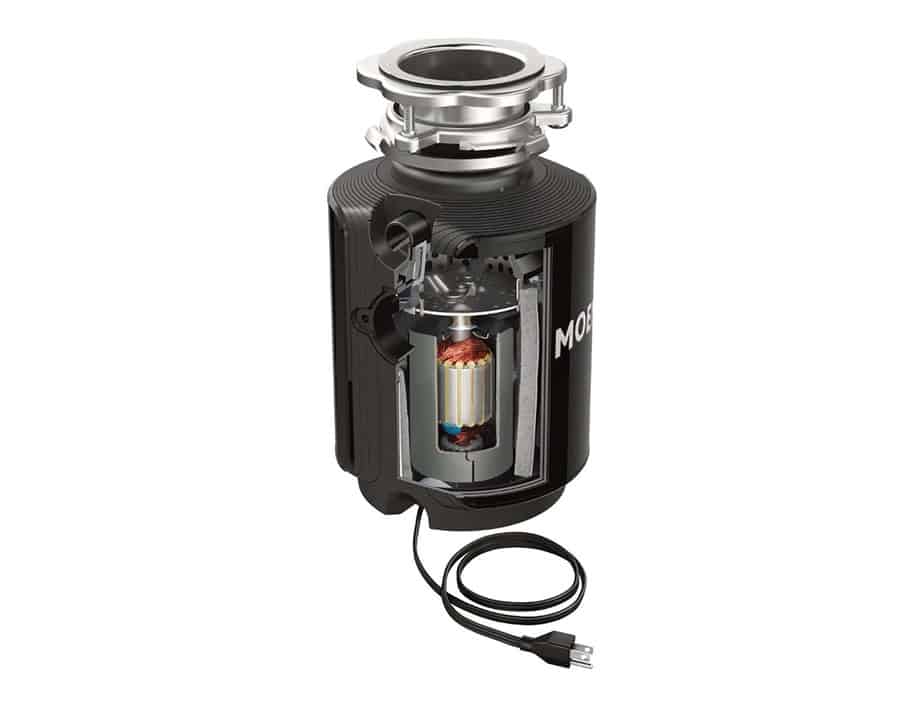 The humble garbage disposal unit is one of the less glamorous home appliances. It is not something you think about too often or really appreciate. Until it stops working that is. If you have not had one before, you are really missing out. If you use one, you know you can't live without it.
They are an amazing convenience. They save time, are environmentally friendly and a really useful appliance. Every home should have one.
When shopping for a new one, the choice can be quite daunting. It is not something you buy every day so understandably, most people do not know too much about them.
There are a few points to consider when purchasing a garbage disposal unit, be it a new one or a replacement.
Budget
Prices range depending on the size, power, and brand. So, consider your budget available before you start looking.
Size
There is a range of sizes available depending on the space you have available as well as the size of your family. Select one that will suit your needs.
Power
The power of the motors is measured in horsepower or HP. They range from 1/2HP to 1 HP. 1/3 HP units are also available but are very limited use and not highly recommended.
The more powerful units can handle large loads, harder waste, and are less prone to jams or clogging. They also tend to be quieter and longer lasting.
Warranty
The warranty is also important for peace of mind. Many of the better models have a long warranty often including free in-house service. A corrosion warranty is also important.
Sound/noise
Some units are fairly noisy while others operate relatively silently thanks to their design and good insulation. If you are concerned about noise, see what the reviews have to say about the noise level of the unit you are considering.
Materials and build quality
Consider the quality of the materials used and how well the garbage disposal is assembled. This will impact how well it performs, how little or how often it jams, the noise it makes, and how long the unit will last. The better materials, such as stainless steel are also easier to keep clean.
Installation
Many designs claim to be easy to install which is true for some people. Other people are somewhat DIY challenged and might have a bit more difficulty. Be honest with yourself to determine if you want to try and install it yourself. If you are in any doubt, get a professional to do it for you. They are not difficult to install but if you are not that way inclined, leave it to the pros.
Making your choice
Those are just a few of the most important factors to consider when making your purchase. If you are in the market for a garbage disposal unit, we have done all the hard work for you and investigated all the top-selling options to come up with this list of the 7 best options on the market right now.
InSinkErator and Waste King hold the majority of the market share and produce some amazing reliable and hardworking units. While they do capture a huge share of the market there are a number of worthy competitors. General Electric and Moen also make great value for money, and they're garbage disposal units that are well liked by many happy customers.
The options we have selected are all top sellers that have been highly rated by those that have bought them. We have looked at the features and specifications as well as the feedback, both good and bad, from consumers. Having studied all of this information, we can confidently recommend any of the following options.
Make sure you look for one that fits your budget and is suitable for the size available and the size of your family. If you follow instructions and use them as directed, they will give you many years of hassle-free convenience.
Top 7 Garbage Disposal Units
Waste King Legend Series 1 HP Continuous Feed Garbage Disposal (L-8000)
Waste King is one of the leading names in garbage disposals and they make some of the most popular, top-selling models available.
If you want a powerful, quiet no fuss disposal, you can't go wrong with the L-8000 1HP. The powerful 1HP permanent magnet motor spins at 2800 RPM which is enough to pulverize most items you would want to send down the unit. Chicken bones and potato peels are no problem for the L-8000.
For all this grinding power it is remarkably quiet while grinding up your waste. This is thanks to the solid construction, glass-filled nylon grinding chamber and insulated stainless steel grinding parts. This sound insulation makes for extremely quiet operation.
The other advantage of this material design is that it makes the unit corrosion proof. All parts are designed to prevent corrosion and Waste King have a lifetime corrosion warranty. The design and finish also make the entire unit super easy to clean. The removable splashguard also makes cleaning easier.
Yet another benefit of the heavy cast stainless steel impellers is that they are anti-jam for years of hassle-free operation. Jamming is a rare occurrence and it is easy to resolve. The reset button is situated in the front of the unit for added convenience.
The unit is relatively compact at 9 inches wide and 14.25 inches tall. It weighs 15 pounds. It has an easy mount system and comes with all the hardware needed to fit and, as garbage disposal units go, is easy to install. The 36-inch power cord simply plugs into a normal power outlet so no electrician is required to connect the unit.
The L-8000 is septic tank friendly. The unit is safe and easy to use.
We mentioned the corrosion warranty but another great feature is the lifetime in-house service warranty. This covers mechanical breakdown and is certainly one of the best warranties on the market. It is an indication of the build quality of the garbage disposal unit.
For the power, reliability, and quiet operation, this unit delivers. It is great value for money.
Pros:
Good sound insulation
Lifetime mechanical and corrosion warranty
Great power
Hassle-free operation
Cons:
Some users found installation challenging
The splashguard can get in the way at times
InSinkErator Evolution Compact Garbage Disposal, 3/4 HP Food Waste Disposal Unit
For a compact, affordable and quiet garbage disposal that does not compromise on power and efficiency, the InSinkErator Evolution Compact is a top choice.
InSinkErator is another of the leading brands in the garbage disposal market and their reliable, hardworking and durable units are amongst the top sellers around.
The Evolution utilizes a ¾ HP 1725 RPM motor for efficient pulverizing. It features a MutiGrind technology which allows it to crush and grind a wide range of waste materials. This two-stage process also means less jams and blockages leading to hassle-free operation.
It works relatively silently thanks to a number of design features. The SoundSeal technology insulates the unit while the Quiet Collar Sink Baffler further restricts noise. It also has an anti-vibration design to prevent rattles and other sounds. Most people claim it to be 30 to 40-percent quieter than similar garbage disposal units.
InSinkErator is known for good aftersales service and have a large team of qualified service agents to attend to your needs. The unit has a four-year in-house mechanical warranty.
The quick lock sink mount makes installation relatively easy and the unit comes with all the parts you will need for a full installation. The only item not included is a power cable which can be purchased separately, or the unit can be hardwired by an electrician.
The InSinkErator Evolution is proudly made in America. The unit is suitable for use with a septic tank.
Quality stainless steel components ensure it is durable and safe from corrosion. The 34.6 oz. grind chamber is a good size for a compact model like the Evolution.
Pros:
Ultra-quiet
Easy to install
Compact
Great power
Durable and corrosion resistant
Cons:
General Electric GFC520V 1/2 Horsepower Continuous Feed Waste Disposer
We would generally be wary of ½ HP garbage disposal units but there is so much positive feedback on this unit that it clearly works well in the right environment. It would suit a single person or a couple but would not work well in a large household.
General Electric has been making quality consumer appliances for well over a century, so they clearly have the skills and expertise to design something that is functional, practical and effective. They have clearly done that with the GFC520V.
This model sports a ½ HP permanent magnet motor that manages speeds of up to 2000 RPM. So long as you do not try and dispose of really hard bones or vast amounts of waste, it will pulverize the contents with ease. It works on a continuous feed basis for ease of use and convenience. The advanced insulation and stability ensure a quiet operation.
The build quality is outstanding as one would expect from GE. It features an on/off switch, splashguard, overload protection with manual reset and a two-level pre-cutter for greater efficiency.
The robust design includes a galvanized steel turntable, stainless steel sink flange and an armature made of cold-rolled carbon-steel. The dual swivel impellers are stainless steel making them corrosion proof, less likely to jam and extremely durable.
The unit is compact at 5.19 inches deep by 5.5 inches wide by 12.69 inches high and easy enough to install if you have basic DIY skills. It is also septic tank friendly.
If you don't have a large family, this is a great option for an affordable, reliable and compact garbage disposal unit.
Pros:
Galvanized-steel turntable
Anti-jam grinding blades
Dishwasher drain connector
2-level pre-cutter
Cons:
Some people will need a professional to install it
InSinkErator Badger 5 Garbage Disposal, 1/2 HP Food Waste Disposal Unit
No garbage disposal review would be complete without including the top selling model from leading brand InSinkErator, the Badger. This compact, reasonably priced garbage disposal unit punches way above its weight class.
It uses a 1/2 HP Dura-Drive Induction Motor that is remarkably powerful for its size. Made in the U.S.A. it is well built using quality, durable materials.
The Quick Lock system makes installation quick and easy and it is designed to work with most three-bolt mounting systems. Everything you need comes with the unit with the exception of the power cord.
The Badger comes with a 2-year in-home warranty. This unit is reliable, great value for money and ideal for small families. It is the perfect choice if you have limited space for a garbage disposal unit. There is a reason it is one of the top selling models on the market.
Pros:
Good value for money
Extremely compact
2-Year in-home warranty
Cons:
No power cable included
Not the quietist unit available
Moen GXS75C GX Series 3/4 hp Garbage Disposal
Moen is probably not the first name that comes to mind when most people think about garbage disposals. The have been making plumbing equipment and accessories for some time, including a great range of kitchen and bathroom faucets. Their venture into garbage disposals has so far proved extremely popular with a good amount of positive feedback from customers that have been using them for some time now.
The GXS75C GX Series 3/4 HP Garbage Disposal is a fast, reliable unit that looks good and works well. It has a lot going for it with a compact, attractive design and good workmanship all round.
The 3/4HP permanent magnetic motor works at 2700 RPM and is more than sufficient for the average family household.
It effectively chops, crushes and grinds your kitchen waste with minimal noise. The design, materials and Sound Shield effectively reduce operational noise to an acceptable level.
Installation is relatively easy if you have basic DIY skills. It comes with a power cord so no electrician is needed to connect the unit. It makes use of the universal Xpress mounting system and three bolt system which is similar to many other garbage disposal units.
All necessary hardware is included and all you will need is some silicone or plumbers putty and a wrench. If you need some guidance with the installation, there is an informative, step by step instructional video available.
Moen provides a great 5-year in-home warranty for added peace of mind. The unit is well priced and provides good value for money.
The unit is compact and good looking with great finishes and materials used inside and out. The dimensions are 5.4 x 5.4 x 13.4 inches and it weighs 7.8 Pounds.
Pros:
Compact
Great for heavy use
Power cord pre-installed
Good warranty
Easy to install
Removable Splash Guard included
Well made with quality materials
Relatively silent
Cons:
Galvanized steel grinding chamber
No jam fixing allen wrench
Waste King Legend Series 3/4 HP Continuous Feed Garbage Disposal (L-3200)
Waste King, as we mentioned before, are one of the most popular males of garbage disposal units. They have a full range to suit a variety of customers and household needs.
In typical Waste King style, the L-3200 has everything you would expect from a top class unit. It features a ¾ HP permanent magnet motor with an RPM of 2700 which will effortlessly pulverize kitchen waste. It gets to full speed very quickly and rarely jams when used correctly.
The stainless steel swivel impellers are unique to this model and efficiently pulverize kitchen waste without jamming or blockages forming.
The sleek compact design will fit easily under the sink and the EZ mount system will makes installation quick and easy. The fact that it comes with a power cord means easier installation and no need to call an electrician.
All grinding components are made from strong corrosion-proof stainless steel. They are also insulated for noise reduction. As with other Waste King units, the chamber is made from glass filled nylon which further reduces noise making this one of the quieter models available.
It is safe for use with septic tanks and is dishwasher compatible. It also has a manual rest button. If a jam does occur or the unit is overloaded, the system will automatically shut down as a safety feature. Simply press the reset button once the blockage is removed.
The warranty is exceptional with an eight-year in-house warranty. The cover includes mechanical or material defects. The unit has a lifetime corrosion warranty. This gives you great peace of mind.
The compact, easy to clean Waste King L-3200 is a great option for the average household. The silent operation, power and reliability are a huge advantage and the great warranty is an added bonus.
Pros:
Quiet operation
Easy installation
Good power and high speed
Excellent 8 Year Warranty
Easy to clean
Corrosion proof
Cons:
Needs a fair amount of space
InSinkErator Evolution Excel 1.0 HP Household Garbage Disposer
Garbage disposals do not get much better than this. If you ware wanting a top of the range unit for your home, you cannot go wrong with the Evolution Excel 1.0 HP.
The durable and robust multilayer insulation ensures that despite the super powerful 1HP Dura-Drive induction motor, the Excel is one of the quietest models available. It has Quiet Collar Sink Baffle and an anti-vibration design to further reduce noise. This is just one of the many positive factors customers rave about online.
The 1 HP motor is about as good as it gets in terms of power but other design features ensure it is even more effective. The 3-stage grinding system will pulverize waste with ease.
While there are some items you should never put in a garbage disposal, the Excel will happily work through most things you feed into it. Even items that would jam most machines such as corn husks and pork bones are no match for the top of the range InSinkErator.
On top of this, the unit also has a built-in sensor and auto-reverse function. The machine will gauge the volume and density of the load and automatically increase torque (by as much as 500%) or reverse the rotation when necessary. This will ensure smooth hassle-free operation with blockages and jams an extremely rare occurrence.
As always, InSinkErator has an amazing warranty which shows the confidence they have in their products. In this case, it is a 7-year in-home warranty. This is far superior to most competitors with the exception of the other main player, Waste King.
It is an easy unit to install and comes with everything you need to put it together. They even include a jam-buster wrench should you need it. It uses the popular 3-bolt Quick Lock sink mount system and comes with a dishwasher drain connection.
For some reason, InSinkErator does not include a power cable with the unit but these can be picked up for next to nothing or you can have an electrician hardwire the garbage disposal.
The size of the unit is 13″ height, 9″ width and it weighs 23 lbs. Proudly made in America, the Evolution will work with septic tanks.
This top of the range garbage disposal unit has the best of everything. It is extremely powerful, goes about its business quietly and is practically jam proof. It is one of the best units money can buy.
Pros:
Easy installation
1 Horsepower Dura-Drive motor
Three stage MultiGrind technology
Great build quality
7-Year in-home limited warranty
Super silent
Cons:
No power cord included
Not the cheapest garbage disposal
Final thoughts
As you can see, there is something to suit any size family and any budget. A garbage disposal unit is one of the most useful appliances you could ever invest in. Any one of these will do a great job and give you many years of service and convenience.