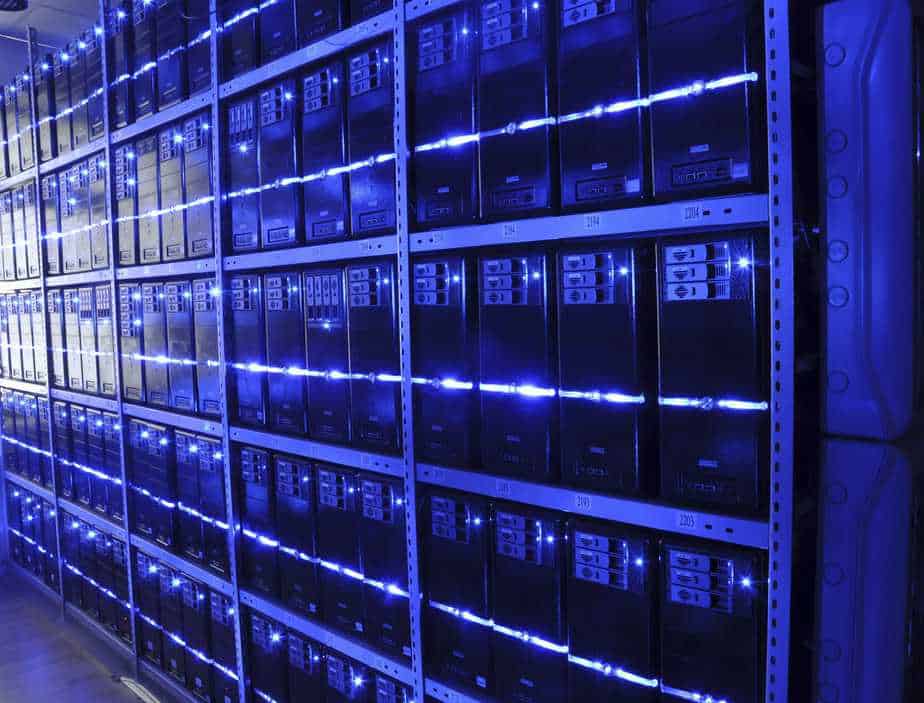 You hear about it all the time. No matter where you are or who you're with. "Connect to the cloud", "save it to the cloud", "the cloud is amazing", and "don't worry about your data, it's completely safe on the cloud", and so forth. With all of this constant "cloud" talk, it's important to know what the cloud really is. Instead of nodding your head in agreement, while actually confused, we're going to teach you about cloud storage in order to help you better understand what this recent technology and service is all about. And no, it's not actually a cloud that you see in the sky when you look up – something many of us thought of when the technology was first introduced.
What is Cloud Storage?
Cloud storage is a reference to online space where you can store your data. Think of a physical storage unit where you store your excess belongings that you simply can no longer fit inside of your house. Cloud storage is almost similar, yet, in the digital world; with some very cool added benefits that cannot be recreated in the physical world. Thus, again, cloud storage is an online space where you are able to access your data that is stored on remote servers – which you are connected to via the internet. The remote servers store your data, rather than on the hard drive on your computer or other local devices that you have with you.
Thus, when someone states that their data is stored in the clouds, it means that their data is stored on remote servers – or in simple terms: their data is stored on someone else's computer where they have access through the internet whenever they want.
So, just like a hard drive failing on a regular damaged computer, your data in the cloud can be dealt the same fate. Thus, the data center where your data is stored can have hard drives fail no different than when hard drive failure happens inside of your home. Meaning: the cloud is not immune to hard drive failures; however, data centers have teams of engineers and professionals constantly monitoring the hardware in order to keep it functioning properly and up to date. This helps in better keeping your data safe.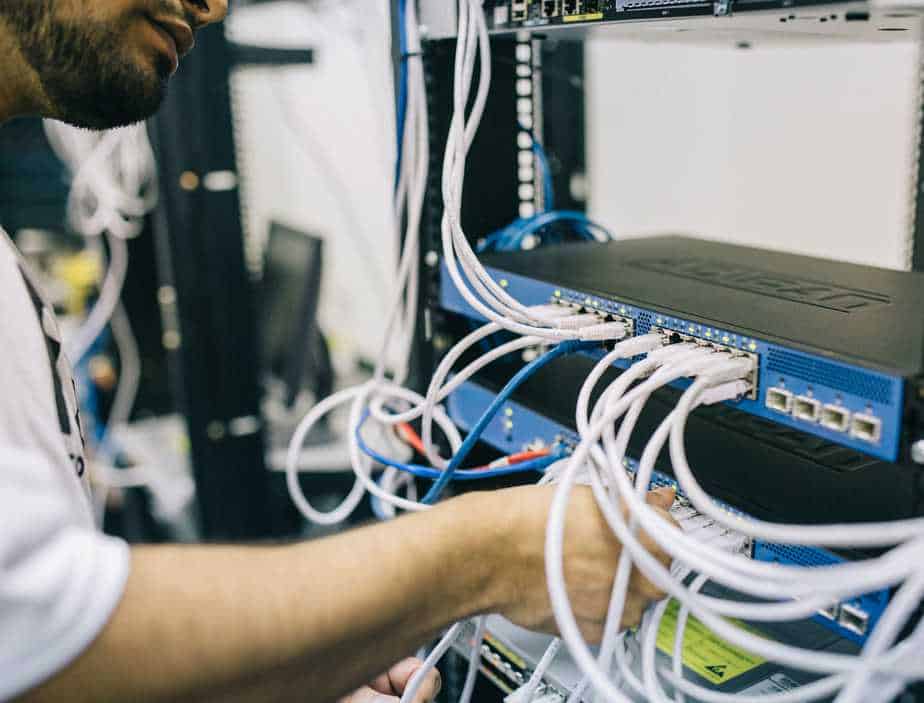 Furthermore, drilling down more into cloud storage, it may be revealing to know that if you're already using a web based email service, such as Yahoo Mail or Gmail, then you're already using cloud storage. Your emails with photos and videos attached are all stored on remote servers. And, because your emails are stored on remote servers, you are thus able to access your emails from any computer or device that has internet connection.
Your cloud storage can include anything from videos, music, documents, contacts, etc. Any type of files that you save on your regular devices can be saved on the cloud. Again, it's important to think of the cloud as simply someone else's computer.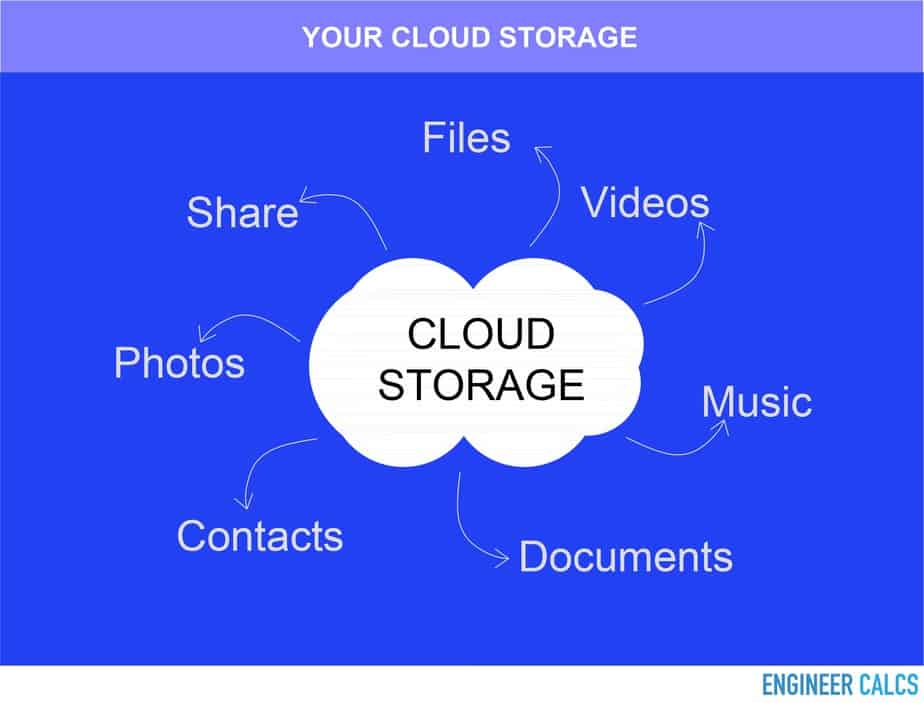 Reasons to use Cloud Storage
Cloud storage is a great storage space for backup files or even working files in general; while remaining easily and remotely accessible, and for the most part secure. It's no secret, however, that we all need to back up our files. We've all lost data from a computer crashing, for one reason or another, at the worst possible time – or our computer even being stolen. The result can be devastating. All of your hard work, and time spent, instantly goes down the drain. Yet, by using cloud storage, you will at least have a backup. The data drive remains in secure data centers where you will always sleep knowing that you have a backup copy that you can instantly access (as long as you have internet connection of course).
Additionally, if you find that you do not have enough space on your computer for your non-secure files, then store them on the cloud – versus worrying about buying a larger hard drive for your computer; as well as dealing with the headache of upgrading other computer components.
Inside a datacenter, the hardware is constantly monitored and upgraded as needed. Thus, the infrastructure required for proper and safe storage no longer is in your hands, and is rather in the hands of the cloud storage service provider. This stress and cost is one thing less you need to worry about.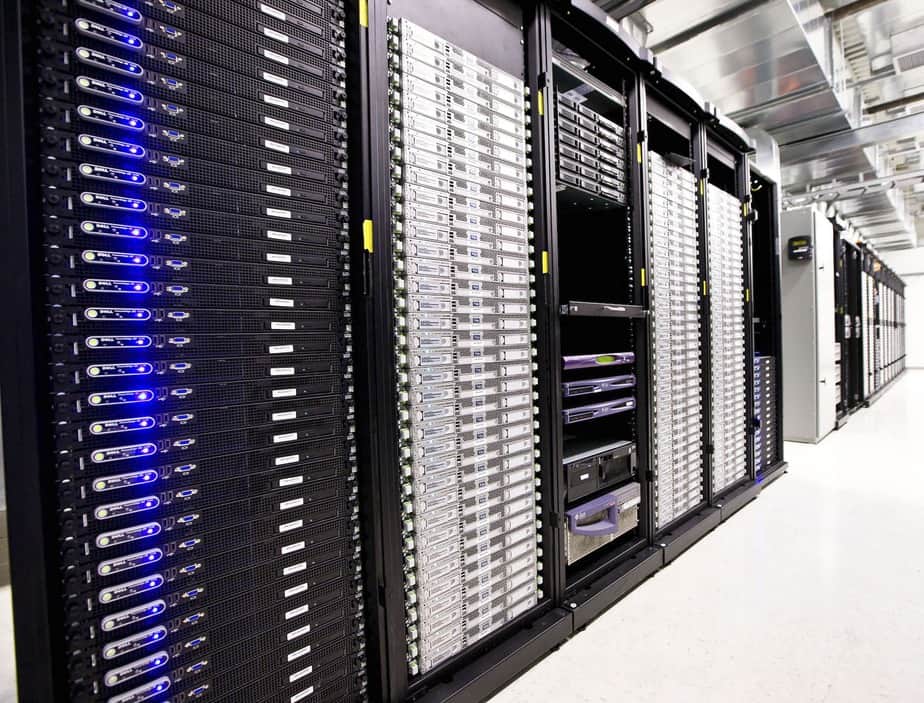 Device synchronization, which we will call "sync" for short, is a reason alone to want cloud storage. When you drag and drop a file into a sync folder, the file will automatically be sent to the cloud; as well as being sent to any other device that is synchronized with your cloud storage. This drastically increases work productivity, as you can work on a mountain of papers remotely at any given time on all of your devices, without any extra effort of having to save and send the file to different places. Imagine having your presentation slides in ten places at once – all identically up to date. Now that's convenient!
What's more, cloud storage makes file sharing effortless. You can easily share files with several people all at once. You simply upload your files, folders, and photos, and simply share them using a public link to anyone around the globe – all at once. Then, as you update those same attachments, the people who received the shared link will be able to see all of the changes and additions you make in real time. It makes not only connecting with family and friends much easier, but makes the business environment much more fluid and efficient.
How does Cloud Storage work?
The simplest form of cloud storage is when a user uploads his/her files from either a computer or phone to an internal server, or as we learned in simple context to "someone else's computer". This then creates a backup of the user's files – the most basic form of cloud storage. Thus, from another perspective, if you have a small server set up in your house or personal office, and you transfer data over to it from one of your devices, you now have your very own cloud storage setup.
What to consider when selecting a Cloud Storage provider
It can be difficult choosing between the many cloud storage service providers out there, as they all seem very similar in their service offerings. Thus, we're going to go over their key features that you should be on the lookout for when choosing. This will ensure that you have the best cloud storage experience. They are:
1) Security
In order to keep your stored data secure and private, you must be sure your data will be properly encrypted by the cloud storage service provider.
2) User friendly
How easy is the product to use? Is the user interface simple and intuitive? Since your cloud storage may turn into a second work space for you, you must be sure that you're comfortable with the user interface and the offered usability features. For example, is it simple and straightforward to upload and access your files? Does the service provider offer a mobile app? Are the steps to copying and renaming files near identical to what you're accustomed to on your Windows or Apple machine? These items are all key factors to consider when you are spending a lot of time on your cloud storage app, with the entire aim of reducing headaches and saving time.
3) App
Cloud storage workspace integrated apps like word processors and task managers help improve productivity and efficiency in your work flow, which can be life savers. This will allow you to make changes on the fly, in real time, on the cloud – on any device; without having to download a document and then re-uploading it after changes have been made.
4) Price
Price is always very important. How much money do you want to fork over? The price is dependent upon the amount of storage space that you think you will need, while noting that providers charge fees for their upper tier plans if specific set space quotas are exceeded.
5) Reliability
How reliable is the service? You want to be able to access your data at all times, and not experience frequent downtimes; or even worse, have lost or corrupted data. Research the reputation of the service provider that you're targeting, in order to view and gauge their service history through user reviews.
6) Backup
Does the service provider back up your data internally? For example, Google has a disaster recovery system in place, where when there's a problem with their servers and user data is compromised, they can recover lost data through their own internal backups.
7) Action history
A history of modifications made to a file is stored. This allows you to retrieve an older version of a file, or even retrieve a file that was deleted. This is useful when you need to go back several edit versions of a document in order to retrieve a copy that you realized was better suited for your work.
So before you sign up for a paid plan, it's always a good idea to try the trial version as a test drive first –seeing how you like everything. You'll become more familiar with the app through using it rather than by reading what it can and cannot do.
Who offers Cloud Storage?
As we have already learned, there are many cloud storage service providers to choose from. It can be overwhelming! Thus, we're going to go over several of the mainstream names, and talk a little about each.
Apple iCloud: This is cloud storage for your Apple devices, which includes Macs, iPhones, iPads, iPod touch, and even your Windows PCs. The current plan offers users with 5 GB of free storage; then larger plans are available for a fee. One benefit to Apple iCloud is that you can have your data automatically backed up at any set time.
Google Drive: Like any other Google product, Google Drive seamlessly integrates with other Google products, such as Gmail and Google+ Photos – making it very convenient to use. Users are given 15 GB of free storage, and your data is accessible from almost any device.
Files and folders can be shared with other Google users through their email addresses, or anyone with a public link. Also, Google Drive makes it very easy to collaborate with others by allowing user comments on uploaded documents.
Amazon Drive: If you have an Amazon prime account, your Amazon Drive has unlimited photo storage space; with 5 GB of storage for all other file types.
Users can also share files by creating public links – accessible by anyone, even if they don't have an Amazon account; similar to Google Drive.
Microsoft OneDrive: The default online storage and syncing service for Windows 10 and Office 365; similar to how Google Drive seamlessly works with other Google products.
Extra hosting space can be earned on OneDrive by doing things such as referring friends, as well as mobile photo syncing too.
How safe is Cloud Storage?
Cloud storage is amazing new age technology; however, we must highlight its shortcomings too so that you can make educated choices when it comes to storing your data. For starters, it's important to remember that cloud service providers have employees, who are human, and who make mistakes and bad assumptions like any other employee in a work environment.
The employees use technology that was not created in-house – for the large-scale purposes it is being used for. Thus, do not assume that a cloud storage provider is better equipped to manage your data – versus what you could do with your local devices.
The larger and more popular a service provider is, the larger the target it will have on its back by hackers and security breaches. We hear on the news all the time of data that has been compromised from millions of people all at once. Look no further than Apple's iCloud that was hacked and celebrity photos were leaked for everyone to see. It's a hacker's dream to have one point of entry to so much data, all in one spot from users of all walks of life.
The data of so many people is clustered together as pictured below. A simple breach in security can compromise the accounts of so many people at once.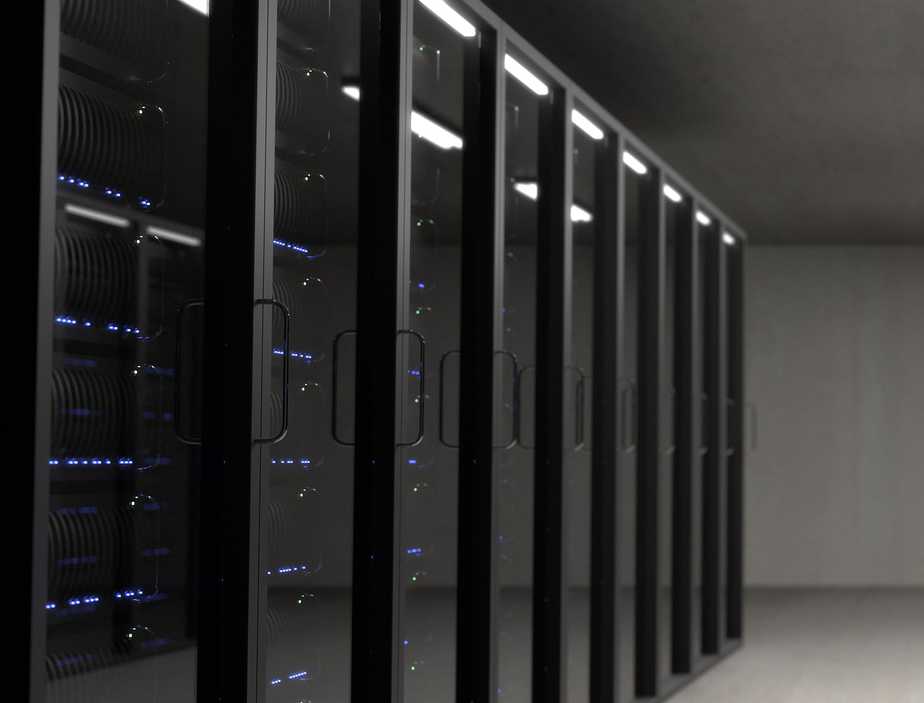 Therefore, it's important to always plan for security failures, while never assuming that your storage environment and data is secure. This then leads us into the discussion over sensitive data.
For sensitive data, it is best to have your own data backups that are not connected to the internet in any way. Purchase an external hard drive and back the data up there. This will at least protect you from online attacks. But, if you're set on uploading sensitive information to the cloud, it's best that you encrypt your files locally, and then upload the files to your cloud host. Never trust the claims made by a cloud provider regarding their security measures; thus, relying on a cloud provider to do the encryption for you – that's not safe! Also, never trust a single storage source for very sensitive data; this includes trusting your local devices, even if they are not connected to the internet. If you have valuable data, you should always have multiple independent copies and preferably not all in one area either; like having five backup copies of a file in a house that burns down – not beneficial.
Interesting facts about Cloud Storage service providers
Most all prominent cloud storage service providers have datacenters spread across multiple locations. It's never a good idea to have all of your servers be stored in one single building, as a single disaster could potentially wipe out all of your stored data. This is why it is recommended not to have all of your backups stored in your house in case of a fire. Thus, it's the reason why service providers have multiple datacenters in different locations; as they select locations that are not prone to natural disasters. For example, a data center on the coast of Florida would not be an ideal location because of all of the hurricanes. However, a data center located in the middle of Nevada would be a great choice for a datacenter.
Cool Cloud Storage Facts
1) Cloud storage is becoming one of the most popular ways to save data.
2) There are approximately 1.6 billion cloud storage users worldwide.
3) Approximately 85% of data is transferred through cloud services.
According to IDC, worldwide spending on public cloud computing will increase from $67 billion in 2015 to $162 billion in 2020. This shows the direction we as a society are headed with our storage wants and needs. These findings are fascinating, with how quickly cloud storage has been adopted by the masses.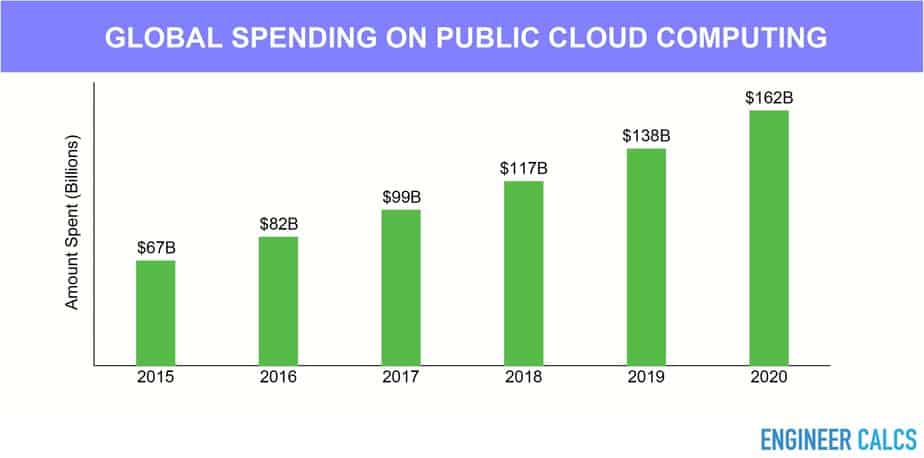 Conclusion
Cloud storage is a wonderful tool to save time, make your work load more efficient, and allow you to sleep better at night knowing that your data is properly backed up. However, there are some drawbacks regarding privacy and security concerns. Yes, your data can be lost or stolen on the cloud, yet, that's why you must be selective in what you choose to store on the cloud. As with everything, there's a give and take. But for most of your data and files, it's a no-brainer to use a cloud storage service. Not only will it help organize your life, but it will save you time by helping you concentrate on things that are more important.