What do consultant engineers do? They provide advice and guidance, project management, and engineering design services to customers.
These customers are both in the private and public sectors. Also, the engineering design work consultants do can be very light to intensely complex.
To better illustrate, I'm going to share my work with you.
I've worked as a consultant electrical engineer for over 15 years. I've chosen 10 different design-focused projects of mine to go over. Because I want you to better grasp all the cool different work you can do as a consultant.
My focus will only be on the design elements of projects though. Not construction and manufacturing.
Also, to point out, many of these projects involved work with other consultants. For example, working with mechanical and structural engineers.
All that said, with any project design work, you typically do one or more of the following:
Design from the ground up
Refurbish existing facilities and infrastructure
Fix failed systems and equipment
Perform engineering studies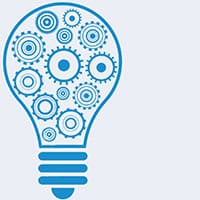 Important Note: not all consultant engineers do design work. This is why you can't generalize over the work of consultant engineers.
Each consulting firm focuses only on certain types of work, especially the smaller a firm is. 
To learn more about the ins and outs of consulting engineering, read here. 
#1 Existing substation system analysis studies
Perform various engineering studies for a 115kV to 12.47kV distribution substation. The substation serves an 18MW hydroelectric plant and 36MW co-generation facility.
This co-generation facility converts steam used in the papermaking process into electricity. The electricity is then sold.
Before any substation upgrades, it's common to first do certain engineering studies.
Work scope
Substation ground grid analysis and design.
Write a substation analysis report. The report includes a short circuit and coordination study.
Calculations for relay settings for the substation's 115kV transmission system.
Produce uploadable relay setting files for the protective relays.
#2 Refurbish geothermal power plants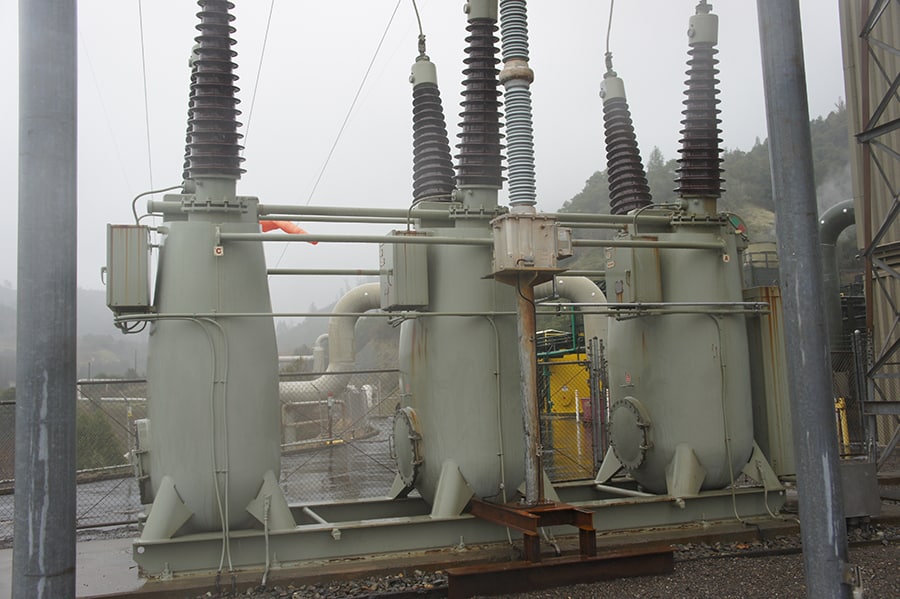 Assist with the refurbishment of 5 aging geothermal power plants. The 5 power plants have a total capacity of 300MW.
Across the U.S., many power plants are aging and need refurbishment. This is a common occurrence and thus a common project.
Work scope
Investigate existing power plant documentation and site conditions.
Design new 21kV substation equipment.
Calculations for relay settings, CTs, PTs, and conductors.
Ground grid analysis and design.
Investigate high-voltage bus clearances.
Design new metering and control room facilities.
Design new relays at each generator relay panel, with all auxiliary devices.
Prepare one-lines, three-lines, DC circuit schematics, and panel wiring diagrams.
Design microprocessor protective relays for the 230kV substation and generators.
Bid assistance, and submittal reviews.
#3 Upgrade a semiconductor fabrication plant
Upgrade old electrical infrastructure for a semiconductor manufacturing plant.
Also, troubleshoot plant problems through a review of historical data from equipment. In addition, discuss plant problems with facility staff.
With the constant release of new machines, companies today upgrade their factories all the time. No one wants to fall behind their competition.
Work scope
Inspection Services
Inspect installation of existing tools, equipment, and electrical facilities.
Prepare new design features for new plant equipment.
Prepare electrical audit of facility practices and procedures.
Act as an inspector on record for new facility installations.
Design Services
Design installation packages for new plant tools. The package includes specifications, block diagrams, and power infrastructure design.
Design and coordinate 12kV paralleling switches. Also, modify the design of the existing 12kV distribution system.
Harmonic and short circuit analysis.
Bid Services
Prepare specifications and plans for bid.
Assist with bid services.
Training Services
Setup workshops with the facility engineering staff for training.
#4 New solar farm analysis and design
Design a 840kW solar farm. The solar farm will generate about 2,000 megawatt-hours per year. For this design, the solar system requires 5,253 photovoltaic modules.
Work scope
Facility load calculations.
Prepare 12.47kV utility-interconnect application and coordinate with utility rep.
Size all solar electrical equipment and components.
Prepare specifications and plans for bid.
#5 Refurbish a hydropower plant
Refurbish an old 1.5MW two-unit hydroelectric facility. The facility was falling apart, and thus the system reliability was poor.
Work scope
Pipeline refurbishment
Prepare plans and specifications for new electric motor-operated valves and instruments.
Review existing equipment facility plans and specifications.
Provide all engineering, programming, and commissioning to incorporate new facility controls.
Program Programmable Logic Controllers (PLCs).
Provide construction management services.
Water treatment plant controls refurbishment
Design control room panels with PLC-based and manual controls. This includes instrumentation, videographic recorders, flat-panel monitors, and operation consoles.
Design new instrumentation and PLC-based controls.
Design new motor operations and controls for filter valve operators. This includes new chemical metering pumps and magnetic flow meters.
Protective relaying and modifications
Design new protective relaying with settings.
Design PLC-based controls with HMI terminal interface.
Modify existing plant power infrastructure, instrumentation, and controls.
New generator step-up transformer
Prepare preliminary transformer specifications.
Prepare a list of recommended installation requirements for transformer installation.
Review supplier's submittal for contract compliance.
#6 Design a food factory's electrical infrastructure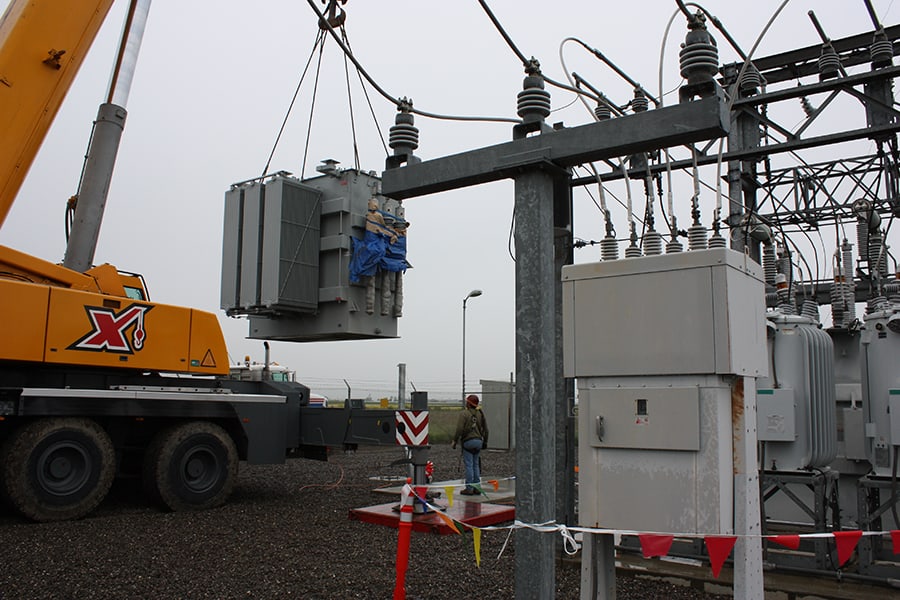 Design the electrical infrastructure for a globally recognized food factory. The company took over an old factory with existing electrical infrastructure.
The goal was to reuse as much of the existing electrical infrastructure as possible to save on costs.
Work scope
Design a new 21kV to 480V double-ended substation, which includes the following:

(3) 21kV SF6 circuit breakers
(2) 21kV revenue metering positions
(8) 21kV substation disconnects
(12) 21kV metal-enclosed fused disconnects
(2) 5MVA, 21kV to 4.16kV transformers
Design instrumentation, controls, and protective relaying.
Ground grid analysis and design.
Short circuit and coordination studies.
Relocation of existing unit substations to support plant process modifications.
Refurbish 60kV facility substation, which includes the following:

New transformer
New utility incoming termination and metering structure
Provision for future 115kV circuit switcher
Fiber-optic communication
#7 Upgrade an existing water pump station
Upgrade an existing water pump station. The pump station was falling apart due to age.
Plus, the station had to increase in capacity due to an increase in the city population.
Work scope
Design a new switchboard, MCC, ATS, and generator.
Design an integrated control panel with PLC-based controls.
Upgrade facility instrumentation.
Design and replace old motor starters with VFDs.
Addition of radio telemetry.
Prepare new utility electrical service application and coordinate with utility rep.
Construction and pre-bid services.
#8 Replace an outdated hydropower plant
The powerhouse generates over 100MW of electricity. The power then transmits out via 230kV transmission lines.
The powerhouse was over 100 years old and all the devices and components were near failure. Facilities this old are unfortunately very common and problematic.
Work scope
Replace three high-voltage circuit breakers.
Replace three generator neutral grounding transformers and the associated field cables.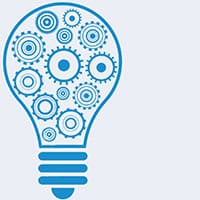 Important Note: replacing old equipment isn't as simple as it may sound. It's actually fairly complex work. You need to consider all the wiring, equipment interfacing, and physical space constraints. 
#9 Refurbish a wind farm substation and design new electrical infrastructure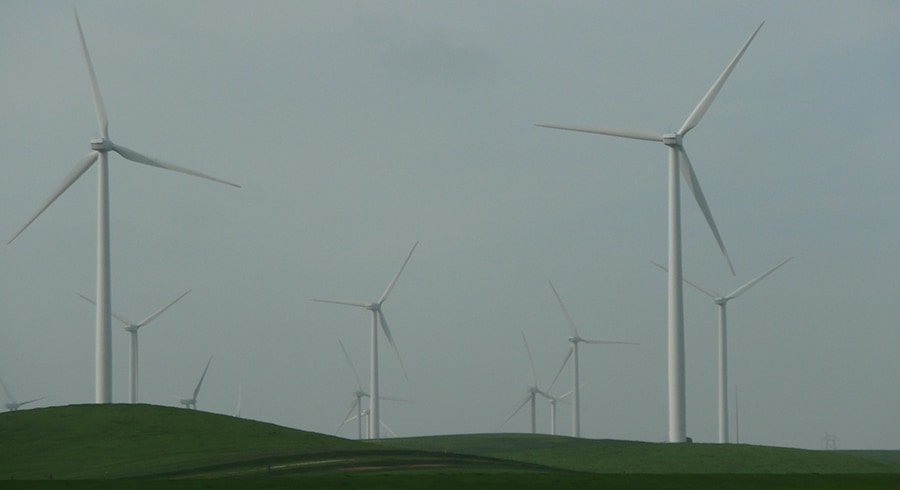 Assist the utility-owned wind farm with the expansion of their substation. The expansion would accommodate the addition of 128MW of wind turbines.
The expansion includes the addition of new equipment. For example, 230kV circuit breakers and 230kV to 34.5kV 200MVA transformers.
Work scope
Circuit breaker and transformer selection.
Prepare EPC contract plans and specifications.
Power system designs following utility standards.
Calculations for equipment insulation, CT saturation, and battery sizing.
Analyze the configuration of 34.5kV underground circuits to 1.6MW induction generators.
Load flow and power factor analysis.
Relay protection system design.
Ground grid analysis and design.
Serve as Engineer of Record.
#10 Power distribution system reliability analysis
Analyze 40 plus miles of above and underground electrical high-voltage lines. The high-voltage lines connect two substations together with backup generators sprinkled in.
The analysis would help maintain long-term power system operations.
Work scope
Complete a power system reliability study.
Prepare a reliability block analysis.
Complete an equipment failure and rating study.
Complete a power quality study.
Prepare new engineering drawings with construction and procurement specifications.
Prepare an energy management strategy to identify poor-performing equipment.
"What do consultant engineers do?" wrap up
As a consultant engineer, you can do all types of awesome engineering design work. I've worked on countless projects I would've never touched if I wasn't a consultant.
That said, the company you work for matters A LOT.
Because depending on your company, you can do highly technical work, or not do any engineering at all. There's a huge contrast in the work scope from company to company.
Of course, you can start your very own consulting engineering business too.
Overall, if you like new challenges, you'll enjoy working as a consultant engineer.
What are your thoughts on the work of consultant engineers? Do you think the work of consultant engineers will grow in demand moving into the future? 
SUBSCRIBE TO ENGINEER CALCS NEWSLETTER
Get daily articles and news delivered to your email inbox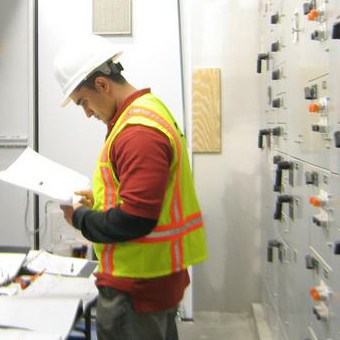 Koosha started Engineer Calcs in 2020 to help people better understand the engineering and construction industry, and to discuss various science and engineering-related topics to make people think. He has been working in the engineering and tech industry in California for over 15 years now and is a licensed professional electrical engineer, and also has various entrepreneurial pursuits.
Koosha has an extensive background in the design and specification of electrical systems with areas of expertise including power generation, transmission, distribution, instrumentation and controls, and water distribution and pumping as well as alternative energy (wind, solar, geothermal, and storage).
Koosha is most interested in engineering innovations, the cosmos, our history and future, sports, and fitness.